Axxon PSIM 1.0.1 Released
05/31/2023
AxxonSoft has released version 1.0.1 of Axxon PSIM — a remarkably advanced distributed physical security information management platform that combines intelligent video analytics, universal IP connectivity, and event-driven automation capabilities in a single environment. The new release enhances the operation and management of large systems and includes updated video analytics and vertical solution modules.
Base PSIM
Multiple improvements have been made to Incident manager, a convenient and versatile tool for handling events according to specified scripts. Incident manager has flexible user rights configuration, automatically runs customized scenarios, and builds reports on operator actions. It helps organize an efficient and reliable incident handling system that best fits the specifics of the protected site.
The Video surveillance monitor introduces buttons that expand operator capabilities. You can add buttons to the video camera window and configure an action when a button is clicked: switch cameras or trigger a customized scenario. Switching between adjacent cameras enables the operator to keep track of an object of interest as it moves. Scenario triggering allows quick responses to events without leaving the video surveillance interface.
The camera list in the function menu of the Video surveillance monitor can now be sorted by ID or by name. In the window for selecting video cameras in bulk, the Computer column is added, which makes it possible to sort cameras available for adding to the monitor by servers in a distributed configuration. Both features make it easier to work with large systems.
Cleaning the database of events older than the specified storage period is optimized: now it starts every three minutes instead of 24 hours. This saves disk space and reduces storage system workload when cleaning the database in a large system that generates numerous events.
Failover service now supports the transfer of the SIP Server configuration to a backup server, maintaining the operability of IP telephony when the connection to the primary server is lost. The Web Server supports TLS version 1.2, which improves Web Client connection security. RTSP Server operation is improved: transmission is not interrupted when you change the video archive playback speed or select another video stream.
Video archive options have been expanded. Videogate can now start and stop recording camera video feeds on operator command or specific events, such as video detector triggering. The newly developed ArchProbe utility checks the integrity of video files recorded in the Axxon PSIM internal format. It helps detect frame drops and other video recording failures.
Axxon PSIM 1.0.1 features Drivers Pack 3.75.30 for IP device support, which introduces 110 new IP device integrations. These include cameras, DVRs, HDVRs, a thermal imager, an NVR, an analytics server, an ANPR camera, and a generic driver.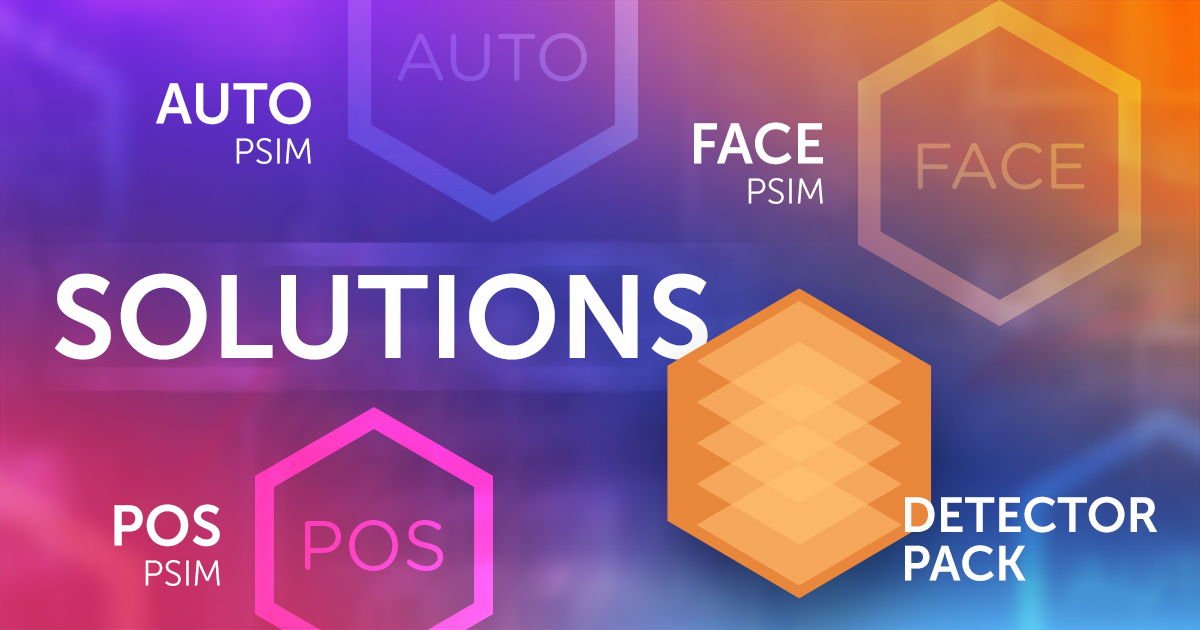 Face, POS, Auto, and DetectorPack Modules
Face PSIM now implements liveness detection to prevent face spoofing. Face search results can be viewed on the map as a trail from camera to camera. This provides a clear indication of how the person moved around the site.
POS PSIM supports Cognex DataMan barcode readers, enabling the module to track objects in manufacturing and logistics applications. HTTP streaming mode is added to the MixForward utility that converts data sent from cash registers and other devices into the POS PSIM format. This enables rapid integration with any device or system that uses the HTTP protocol for data exchange.
Auto PSIM's "Event search in the Recognizer's DBs" feature now supports searching by vehicle make and model. This allows finding specific vehicles that have passed through checkpoints, even if their license plates are unknown. The Plates protocol view has been improved, and several other improvements have been made to the Auto PSIM module.
The most significant enhancement to DetectorPack is a scan mode that can be applied to the neural tracker and fire and smoke detectors. In this mode, the video image is divided into multiple zones. The neural network sequentially scans these zones to detect fire, smoke, or objects specified for the neural tracker. This improves detection accuracy when using high-resolution cameras. Detection accuracy and performance have also been increased for all types of neural trackers and posture detection tools.
The newly released software packages and documentation links are available on the Downloads page.