Axxon One VMS with NetApp Storage Successfully Handles 1,100 Cameras on Single Server
05/16/2023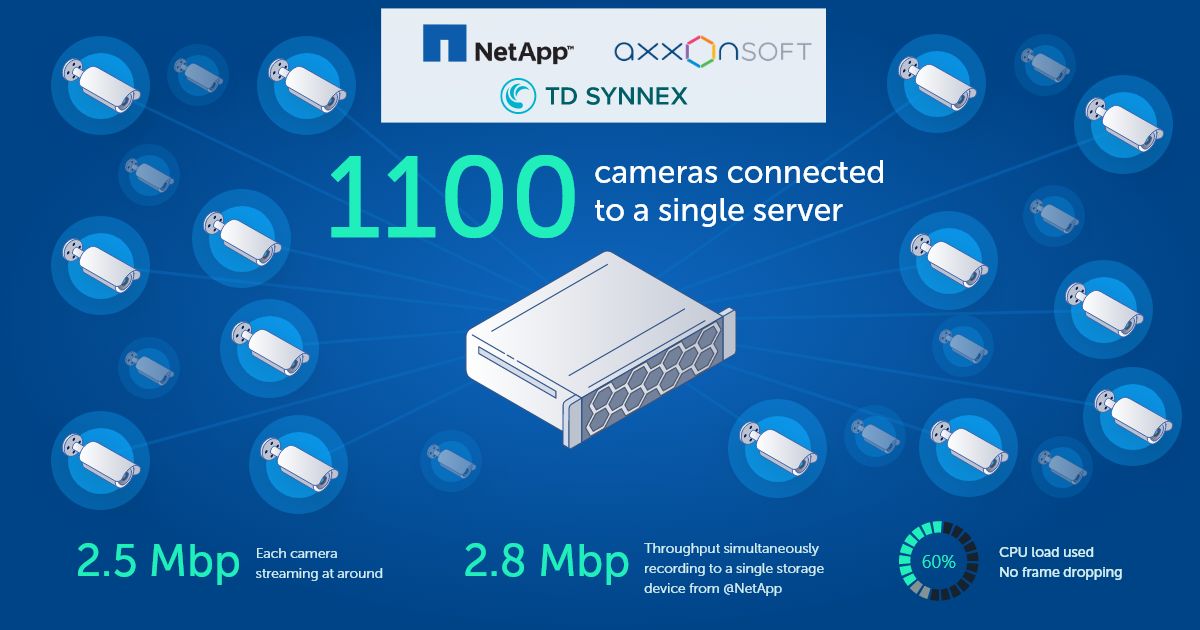 Axxon One VMS running on the Supermicro server and using the NetApp E2812 storage has been put through a series of performance tests. The purpose of the testing was to validate the hardware and software compatibility and their stable and failsafe operation within a 24/7 video surveillance solution aimed at large-scale applications. The benchmarking was organized by AxxonSoft partners, TD SYNNEX IT distribution company and NetApp at the Cyber Range Lab in Arizona, US.
Management and Archive server:
Third Generation Intel Xeon Processor Gold 6338N, 2.2GHz, 32 cores
512GB RAM
Microsoft Windows Server 2019 Standard
NetApp E2812 storage array:
NetApp SANtricity® management software 11.70.2
NetApp DDP technology
22 x NL-SAS 7.2K RPM hard drives
An impressive result was as many as 1,100 camera connections to a single server based on the single-socket Intel® Xeon® Gold 6338N processor. With each camera streaming at around 2.5 Mbps, at most only 60% CPU load was observed with no frame dropping on any of the camera inputs. In total, a 2.8 Gbps throughput simultaneously recording to a single storage device from NetApp is achieved.
The superior performance characteristics confirmed during the tests make Axxon One VMS running on the Supermicro server with the NetApp storage the best-fit solution for enterprise-scale video surveillance systems comprising thousands of cameras. With NetApp® E-Series systems high-density modular storage blocks, customers can scale incrementally and without limits. Thus, the solution provides consistent high-performance bandwidth complemented by world-class flexibility and scalability ensuring cost-effective growth.
AxxonSoft's customizable AI video analytics helps efficiently handle customer-specific tasks in a variety of target segments. Backed by reliable and technically advanced hardware, Axxon One VMS becomes the right fit for such large sites as big office buildings, malls, airports, transportations hubs, production and mining facilities, power plants, as well as city-wide public safety setups.
Learn more