Ensuring passenger safety at Wrocław Main Station
Ensuring passenger safety is the highest priority for management at Wrocław Main Station, the rail hub of one of Poland's largest cities. So selection of a video management system was not a choice that they made lightly. Like other mass transport facilities, the station sees enormous passenger flows. This dictated some of the requirements that management had for any prospective surveillance solution: full camera coverage, precise video analytics, and integration of access control and fire/security alarms into a single seamless infrastructure.
Our client
Wrocław Main Station: an architectural beauty in its own right
Built in 1856, Wrocław Main Station sits on the crossroads of several important rail lines and is the rail transport hub of southwestern Poland.
Wrocław Main Station is the creation of royal Prussian architect Wilhelm Grapow, who also designed the Upper Silesian Railway.
The station has been rebuilt and retrofitted many times, including major works after the end of World War II. The main reconstruction took place in 2012, after which the building both regained its authentic historical appearance and came into compliance with all technical standards and requirements. As part of modernization, passenger platforms were overhauled and added (increasing from 5 to 6 in number). Underground parking and a "night station" were added as well.
These impressive works forced station management to consider how to protect Wrocław Main Station and adjacent areas with the help of state-of-the-art security technologies. Video surveillance promised other benefits as well, by guiding efforts to improve passenger comfort and increase passenger capacity by building out the station's infrastructure.
Context
Modernizing video surveillance for UEFA Euro 2012
Safety and security are prime considerations for the management of any rail station. Today's stations are more than just stations and platforms, offering substantial facilities that often house stores, cafes, ATMs, and more.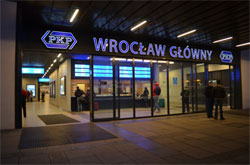 At the time, Poland was also preparing to host the UEFA Euro 2012 soccer championships. Sporting events draw millions of visitors from all over the world, making security infrastructure absolutely critical. Renovations of transport hubs and athletic facilities were of particular concern for both Polish and European authorities. Efforts to modernize Wrocław Main Station, including installation of video surveillance and related security works, needed to be finished before the influx of fans.
A centralized security system was needed in order to monitor all of the station's indoor and neighboring outdoor spaces. Key zones required particularly thorough surveillance, to be coordinated through a central monitoring hub.
When the management of the rail station reached out to security installer Qumak, the existing surveillance infrastructure consisted of a network of local surveillance systems and guard stations. But theft, the specter of terrorism, and unsatisfactory reliability of the existing system forced management to act.
Based on site needs, station management articulated key criteria for any new security system:
Distributed security system
Central monitoring hub
Support for network attached storage
Multilevel interactive 3D maps
Event-driven response scenarios
Integration with access control and fire protection systems
Solution
PSIM-powered surveillance to meet all client needs

The choice for the software core of the new system went to the AxxonSoft PSIM, developed by AxxonSoft. Installation and setup were performed by Qumak , a local company.
As a multifunctional open platform for creating sophisticated security systems of all sizes and scales, AxxonSoft PSIM was particularly prized for its reliability, wide range of functionality, and flexibility in implementation of project goals. One of the weightiest arguments in favor of AxxonSoft PSIM was the ability to combine video surveillance, fire/security alarms, perimeter security, and access control into a single digital infrastructure. An additional advantage of AxxonSoft PSIM was the software's ability to adapt to the requirements of any site in part thanks to its modular architecture, which allows clients to select only the functions that are needed to implement a particular project.
A total of 13 servers and 266 cameras were installed at the site. A central monitoring hub was created for coordination and monitoring.
Based on the client's requirements for access control and fire/security alarm integration, the Galaxy and Polon modules were deployed as part of the system as well. Perhaps most impressively, massive multilayer interactive maps consisting of 328 levels were created for situational awareness of the entire rail station and locations of relevant system hardware.
Effect
Effective security, smooth events
Installation of an PSIM-powered security system enabled deploying a reliable and effective system for ensuring security at one of Poland's largest train stations. The new video surveillance capacity enabled fine-tuning station operations and keeping a better eye on goings-on. And perhaps most importantly, the Euro 2012 games went off without a hitch and tourists remembered Wrocław Main Station as the picturesque symbol of a hospitable and delightful city.
Our partner
Qumak has been operating on the security market since 1993. The company specializes in installation of security systems at sites of varying complexity levels. Businesses in energy, medicine, and industry have all called upon Qumak's rich experience with fire and security systems. In addition, the company is an official distributor of video surveillance, communication, and fire protection equipment. The company's partners include JVC, Motorola and Maxon.
További hasznos információk
"Az AxxonSoft támogatása felülmúlhatatlan. Amikor legnagyobb ügyfelét új szoftverplatformra állítja át, mindig komoly aggodalomra ad okot. Az AxxonSoft minden lépésnél mellettem állt, és minden erőforrást felhasznált a siker érdekében."
Legyen az AxxonSoft partnere
Vonzzon több ügyfelet. Növelje nyereségét. Növelje vállalkozását.